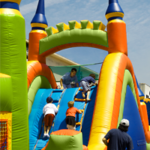 Voting will be at the Annual SORO Festival, on Sunday June 5.
What is the SORO Festival?
On Sunday, June 5th from 11am to 4 pm, South Robertson Boulevard closes down from Cadillac to Cattaraugus for one of the most wonderful community events in Los Angeles, THE SOROFEST!  In addition to the great food trucks, music, booths and kiddie rides, look out for the following:
ECO CAR EXPO where we will have some of the latest electric vehicles like the Tesla Model X, and the BMW i3 Rex, and even a Toyota Mirai hydrogen fuel cell.
FREE (with rebate) RAIN BARREL DISTRIBUTION- the current rebate period ends July 1st!
FREE SHADE TREES- with proof of LA City residency
FREE MAMMOGRAMS
THE DEDICATION OF THE BARBARA MENDES SQUARE – at 12 noon
THE HAMI GARDEN FUNDRAISER SALE – succulents, veggies, worms, worm bins, compost bin
And there will be voting polls where you can register and vote.
I'll be walking around with my kids (they'll be the incredibly cute short people saying "vote for my dad…Ken Blaker") and hanging out near the polling area electioneering as best I can. Come by and chat, and meet me and other board members and candidates.
And please take a few minutes to vote for me – your vote will make a difference.